DCBA November & October Newsletter 2017
original 在 星期五, 12/08/2017 - 15:04 提交
EVENTS-
US China Auto Exhibition and Industry Forum 
China Auto Industry Investment and Development (Wuxi) Ltd
By Eric Muska
November 16, 2017
November 7-8, 2017
Dearborn, MI - Edward Hotel
     Troy, MI based Detroit Chinese Business Association (DCBA) held the first Sino-US Automotive Supply Chain Exhibition and Industry Forum where Chinese and American companies met to discuss potential cooperation, mergers and acquisitions. 
      The forum was kicked off with a welcome dinner where company representatives all met for a dinner reception and networking session.  During the reception attendees were presented with the opportunity to meet the DCBA leadership, local officials and also participate in the signing ceremony that solidified the ongoing relationship between Michigan and the China Auto Industry Investment and Development (Wuxi) Ltd.  DCBA golden sponsors Miller Canfield and Kerr Russell received sponsor of the year award for their unwavering support of DCBA over the years.  Commercial Consul of China Mr. Zou Xiao Ming presented of the award to Shusheng Wang of Miller Canfield.  Canadian Consul General Douglas George presented of the award to James Cambridge of Kerr Russell.  In witness of all the guest and delegation, China Auto Industry Investment and Development (Wuxi) Ltd and DCBA signed Strategic Partners Agreement.
      Throughout the two-day event company leaders shared their company's business challenges and objectives in their respective markets but more importantly used this as an opportunity to meet with potential partners with complementing objects. 
      The second day of the forum was open to the public organized with an expo style platform where current production and prototype vehicles were on display next to the specific products and services offered by the exhibiters.  
      Simultaneous to the expo a series of conferences were held where industry and academic professionals shared their thoughts regarding the present issues and proposed solutions for realizing efficient business practices and improved communications across borders. 
November 9, 2017
      After the welcoming dinner, expo and conferences were concluded, the visiting delegation toured several sites in Michigan.  The goal of these visits was to show the strength and support Michigan has to offer new business.  The tour themes ranged from cutting edge technology, world class manufacturing to Sino-US experienced professional services.
Ann Arbor, MI - City of the University of Michigan
      The day started with a tour of MCity that impressed the delegation with its 32 acres state-of-the-art autonomous drive testing facility, complete with simulated city streets, complex crossroads, intersections, tunnels, railroad tracks, roundabouts and highways.
      Automotive and high-tech companies including General Motors, Ford, Toyota, Honda, BMW, Intel, Qualcomm, Bosch, LG, and Verizon are currently using the facility to conduct critical research for next generation autonomous driving and electronic safety systems.
Troy, MI -  Headquarters of the Detroit Chinese Business Association (DCBA)
      At noon, the Delegation visited the DCBA headquarters where the Chairman, Mr. Gao Bian (Brian) and the Vice President, Mr. He Yang (Jason) welcomed everyone with a brief tour followed up with presentations and open discussions regarding the history, charter and scope of services offered by the DCBA.
Rochester Hills, MI - FANUC Robotics Manufacturing Company
      In the afternoon they traveled to FANUC Robotics Manufacturing Company North American headquarters.  FANUC is one of the world leaders in robotic equipment design, application and manufacturing, with most of its North American production and support centered in Michigan.
      During the visit they were shown a video that highlighted future potential of robotic design followed by a tour of the facilities.  They also had a chance to get hands on access to the robotic manufacturing applications that are currently available and commonly used manufacturing.
Farmington Hills, MI - NAI Farbman Group Farwell Party
      In the evening NAI Farbman Group hosted the farewell party where the delegation rejoined representatives from the US companies for dinner in a relaxed and informal environment. During this reunion members reinforced the relationships and confirmed future plans to meet and carry out specific agendas their respective companies.
      After three days of exhibitions, forums and visits, business representatives from China experienced Michigan's profound automotive culture as a century-old car city, the automobile talent pool and potential business opportunities.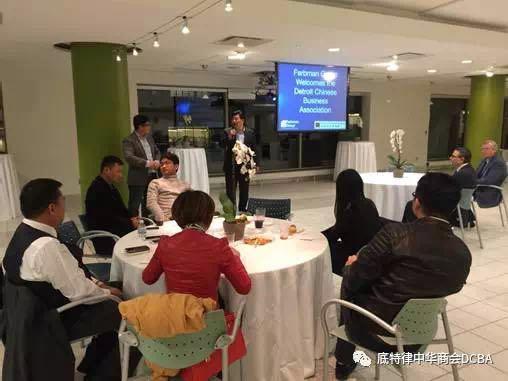 We thank our partners and sponsors for their long-term support! Also to all our volunteers for their hard work in setting up a very successful event!
EVENTS-
US China Auto Exhibition and Industry Forum 
China Auto Industry Investment and Development (Wuxi) Ltd
DCBA-SASAC Event
October 2017
      October also marked an exciting mixer hosted by EY in partnership with the Detroit Chinese Business Association (DCBA) at the beautiful downtown Detroit office on Woodward Ave.  
      The event brought together more than twenty delegation companies and Distribution of State-owned Assets Supervision and Administration Commission of the State Council (SASAC), which is the chief PRC organ for regulating investor responsibilities, managing state assets, including SOEs, under the supervision of the Central Government and enhancing the management of those assets.
      Six DCBA sponsor also presented topics that were interested by the delegation.  Brian Gao, President of DCBA welcomed open the guests and briefly introduced DCBA.
      Mr Wan Liang From Deputy Director of SASAC Examination and Distribution Bureau to introduce SASAC and visiting Chinese company.
      Dan Kelley and Michelle Wang on behalf of EY welcomed delegation and kicked off the event.  Scott Morrison from EY People Advisory Service compared HR function between global company and US company.
      Jessica Xie from Hyland Group shared with the audience's US insurance law and global companies insurance needs in US, including business insurance, employee benefits, personal insurance.
      Chenjia Wang from MSP focused on Social Security Tax, Medicare Tax, FUTA and STUA.  Different tax treaties between US and China was also hot discussion among delegation.
      James Cambridge representing Kerr Russell touched on US Employment Law and Michigan union issues.
      Shusheng Wang from Miller Canfield shared existing experiences on merger/acquisition, team integration and culture differences on viewing HR function.
      Jie Ma from YanFeng Automotive Interior also share personal stories of the struggle and success after YF and Johnson Controls.
EVENTS-
DCBA support for the opening ceremony of a new Ann Arbor Innovation Incubator held on November 17, 2017.
       On November 17, 2017, an incubator based in Michigan Ann Arbor, TUS Star (Ann Arbor), held its grand opening ceremony. The TUS Star (Ann Arbor) incubator base, located near the University of Michigan in Ann Arbor, is the first incubator for TUS Star to operate independently in the United States and is an important step TUS Holdings took in its globalization strategy. TUS Holdings Chairman, TUS International Chairman Zhigang Ma, Chairman of TUS Holdings, Director of Incubator Holdings Inc, Director of TUS Star Quanhong Shen, Special Assistant to TUS Holdings Chairman and Executive Director Ming Yang attended the grand opening ceremony.  Brian Gao of Detroit Chinese Business Association (DCBA), Phil Santer of Ann Arbor Spark, Brian Connors of Michigan China Innovation Center (MCIC), Les Alexander of Inmatech, Gerry Roston of Civics are among invited guests. 
      On the engineering side, we are known for our unique approach to analytical benchmarking which provides the highest level of 3D modeling accuracy available. This saves our customers millions of dollars and reduces months of effort in R&D and testing.
      Our customers rely upon our recruitment and placement services for their technical staffing requirements. We are a premier automotive staffing supplier to the big three automakers, other OEMs, and component suppliers. Our flexible recruitment and placement services include contract and project staffing, direct placement, payroll services, career development, and training.
      There are plenty of places you can go to buy a car, but when you're looking for a dealership that delivers a selection of new vehicles from a variety of manufacturers, a quality selection of pre-owned vehicles, and a commitment to achieving 100% customer satisfaction.
      Stop in and see us today to check out our new vehicles from Buick, GMC, Subaru, and Isuzu, as well as our transparently priced and hand-selected grouping of used cars, trucks, SUVs, minivans, and more.
At Sellers Auto Group, we want to make sure you're fully satisfied with your experience at our dealership and the vehicle your drive home. That's why we offer a 7-Day "Love It of Leave It" plan that lets you return your car for up to seven days if you're not totally happy with it. Stop in today to take a look around, and take a test drive of a few different models to see which one feels right!
      Once you've made your purchase or gotten a great deal financing your car, we'll still be there for you. Our service department is equipped with the latest equipment, and our technicians have decades of experience working on vehicles just like yours. Whether you need an oil change, a new set of tires, brake work, or powertrain repairs, we've got you covered.
      We look forward to serving all your automotive needs for many years to come!
More than CPAs
 
       Doeren Mayhew is a leading group of CPAs and trusted advisors who go beyond traditional accounting to help mid-sized companies grow and prosper. Founded in 1932, we are today a top 100 firm recognized globally and applauded nationally among INSIDE Public Accounting's "Best of the Best."
 
       With offices in Florida, Michigan, North Carolina and Texas, Doeren Mayhew's staff of more than 300 is organized into dedicated groups that cater to your industry or service needs. Combining a deeply rooted history, vast expertise and a progressive mindset, we offer insight into the business, oversight to ensure best practices and foresight for what's ahead. To learn more, browse our  specializations, read about our technical expertise and find out why thousands of business owners like you choose Doeren Mayhew.
RANKED BY FORBES AS THE TOP 15
100 BEST BANKS OF AMERICA
        East West Bank has achieved success as a bank focused on the United States and Greater China markets. Our understanding of cultural and business practices on both sides of the Pacific is enabling a new generation of customers to seamlessly scale their business and investment opportunities between East and West.
       East West Bancorp is a publicly owned company with total assets over $35 billion and is traded on the Nasdaq Global Select Market under the symbol "EWBC". The Company's wholly owned subsidiary, East West Bank, is one of the largest independent banks headquartered in California. East West is a premier bank focused exclusively on the United States and Greater China markets and operates over 130 locations worldwide, including in the United States markets of California, Georgia, Massachusetts, Nevada, New York, Texas and Washington. In Greater China, East West's presence includes full service branches in Hong Kong, Shanghai, Shantou and Shenzhen, and representative offices in Beijing, Chongqing, Guangzhou, Taipei and Xiamen.
       Established in 1951, Fragomen has grown from a respected domestic U.S. immigration law practice to a truly global organization.
       Our expansion has been a direct result of our strategic decision to establish offices in the markets where our clients would benefit from our on-the-ground presence.
       We intend to maintain our status as the largest and leading immigration services provider by extending our service capabilities and our global presence to meet our clients' needs and market demands.
 

Detroit Chinese Business Association
3250 W. Big Beaver Road, Suite 430, Troy MI 48084

 
| | | |
| --- | --- | --- |
| | Detroit Chinese Business Association,3250 W. Big Beaver Road, Suite 430, Troy, MI 48084 | |