DCBA March Newsletter 2017
Tian Xia 在 星期三, 03/01/2017 - 00:00 提交
DCBA 2017 Chinese New Year Gala Recap
On February 11th at 6pm in the Riverview Grand Ballroom at Cobo Hall the DCBA hosted our 2017 Chinese New Year Gala.
It was an evening filled with beauty, from the elegant trappings of the ballroom to the sophisticated music stylings of the Detroit Symphony Orchestra. Everyone who attended looked and felt fantastic, the men in their black-tie attire and the women adorning magnificent flowing gowns and traditional Chinese "qipao".
We were honored this year to be joined by many esteemed guests, with government and business from China and the U.S being represented. Speeches were given by Senator Debbie Stabenow who spoke of America's proud history of immigrant heritage and the history of Chinese in Michigan; Governor Rick Snyder spoke of the important relationship our state and China share.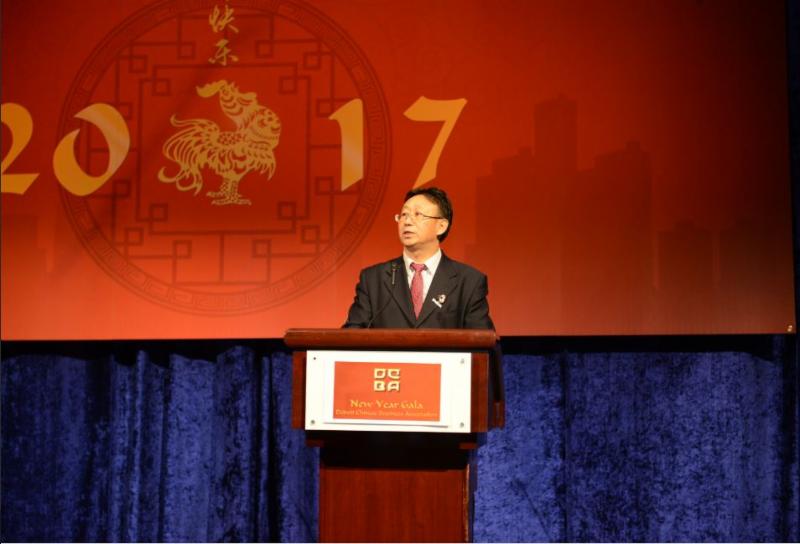 Mr. Zou Xiaoming Commercial Consular of China in Chicago, who largely echoed the governor's sentiment, and Mr. Johan De Nysschen the President of Cadillac who spoke of the key role China plays in the U.S auto industry.
In addition to the Detroit Symphony Orchestra we are also fortunate to have performances by the husband and wife vocalist duo Wangjie and Jingsheng Zhang, as well as a piano performance by Miss Michigan, Arriana Quan.
Over five hundred people attended this year's Gala, showcasing the rising influence of our state of Michigan as well as the importance of the vital relationship between Michigan, the US and China. We wholeheartedly thank everyone who came out this year and look forward to an even better show next y
ear!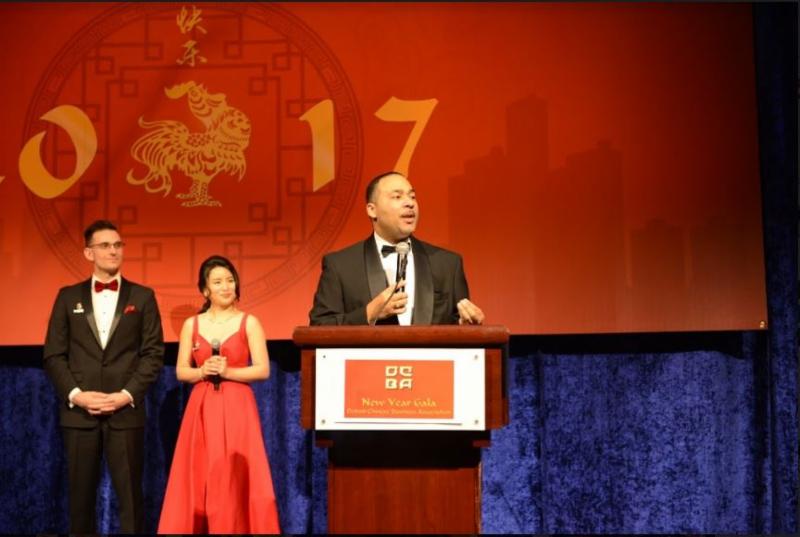 A big thank you to the entire DCBA team all of whom did a fantastic job, and a special thank you to this year's hosting team: Joshua Chiatovich, Catherine Li, Cindy Fabio and Andrew Humphrey.
On Wednesday, February 1st the DCBA partnered with the Society of Automotive Analysts for an interactive forum on the impact of the Chinese Automotive industry on America.
The forum began with a presentation by Micheal Dunne, president of Dunne automotive. Mr. Dunne gave a brief but enlightening presentation on the history of US-China relations in the automotive industry.
After Mr. Dunne's presentation, the interactive forum began. Mr. Dunne was joined on stage by Robert Xiaochen Bao, managing director of the EMH group and Matthias H. Meyer, deputy director of supply chain management for SAIC USA Inc. The three men took questions from the audience for roughly an hour.
By the end of the event everyone in attendance had a clearer view on the current state of affairs between China and the US in the automotive field.
(NEW)S IN THE COMMUNITY--
Sure Solutions Corporation moves to Auburn Hills 
to support growth
Automotive supplier rebrands operations under the name Lucerne International
The DCBA is proud to welcome another member to our growing community of Chinese Businesses in Detroit: Lucerne International.
AUBURN HILLS, MI., March 21, 2017 - Sure Solutions Corporation, a provider of cast, stamped and forged components and assemblies to the automotive and heavy truck industries, has moved its global headquarters to Auburn Hills, MI. The company will continue operations under the name Lucerne International, Inc., d/b/a Lucerne Group.
Located at 40 Corporate Drive in Auburn Hills, the heart of automotive innovation, the new office space provides capacity for manufacturing, customer support, sales and services across the entity.
 
"We were fortunate to a find space to enhance our clients' needs, and I don't think we could have found a better location for our dynamic team," said Lucerne CEO Mary Buchzeiger, who now owns 100 percent interest in the company. "Our new office and manufacturing facility will provide exceptional value and even better service as we keep growing."
 
With its current contracts, Lucerne International is on track to grow 125 percent in 2017 and was recently awarded the contract to produce all forged hinges for the 2018 JL Jeep Wrangler. In the last year Lucerne International has increased from 16 employees to 32 employees and expects to hire an additional 10-12 employees by the end of the year.
 
Lucerne International will host its official grand opening celebration and ribbon-cutting April 13, 2017 beginning at 5:30 p.m. Expected speakers include Auburn Hills Mayor Pro-Tem VeRonica Mitchell and attendees such as executives from the Big Three, Detroit Chinese Business Association (DCBA) and Auburn Hills Chamber of Commerce.
Visit www.lucerneintl.com for more information.
SPECIAL ANNOUNCEMENT--
The Kevin H. McKervey Scholarship
The DCBA is proud to share the creation of the Kevin H. Mckervey Scholarship with our members. Kevin was a great friend and supporter of our organization and cause, he passed away on March 13, 2016, but his legacy will continue for generations to come.

The scholarship was announced by Clayton & McKervey President Rob Dutkiewicz, CPA, who has led the firm since McKervey's passing. "The Kevin H. McKervey Memorial Scholarship will create a permanent remembrance of Kevin while providing ongoing support for accounting students at the University of Michigan-Dearborn College of Business," Dutkiewicz said.  "The scholarship addresses two of his long-held passions:  investing in the next generation and supporting the U of M Dearborn College of Business."
McKervey joined Clayton & McKervey in 1990, serving as president for four years after the retirement of Don Clayton.   Prior to being named president, McKervey led the firm's international practice and was instrumental in the firm's growth and development.
In addition, McKervey served on the U of M Dearborn College of Business Dean's Board of Advisors for 15 years.  He received the University's Award for Professional Growth and Scholarship in 2009 and was named the College of Business Alumnus of the Year in 2012.  
To be eligible for the Kevin H. McKervey Memorial Scholarship, candidates must be working accounting students who have demonstrated leadership skills, possess a cumulative GPA of 3.2 or above, and are pursuing their first career.  Additional details on the scholarship are available on the U of M Dearborn website. The inaugural scholarship will be awarded at the UMD Honors Banquet in the fall. 
SPECIAL THANKS --
The DCBA would like to say a special thank you to Mr. Alan Turley the deputy assistant secretary of commerce for China and Mongolia in the U.S. department of commerce's international trade administration.

 

Mr. Turley came from D.C to join the DCBA for three events in February. He was the keynote speaker at two forums on China's market for environmental technologies one in Detroit, one in Lansing and attended our new year gala.
 

We are honored that Washington D.C. is paying attention to what we are doing here in Detroit and we look forward to working closely with them in our mission of connecting China and the U.S.
Job Opportunity Announcement--
Sales Director/General Manager - China Operations
International organization headquartered in Troy, MI is seeking a Sales Director/General Manager for China start up. Tremendous growth opportunity for hard-working, trustworthy, organized, high energy manager to run our new China operation. Individual shall have strong business acumen focus on cost control, sales and marketing. This growth opportunity requires strong negotiation skills to help navigate the political bureaucracy. If you're seeking a long-term career opportunity in one of the hottest fields in the world where your pay is commensurate with your entrepreneurial ability to grow the business this may be the right fit for you. Ability to read, write and speak fluently in Mandarin required. Long term overrides and residual income. Our company has the global footprint. Our large customers require us to have a presence in China. For immediate consideration please submit cover letter, resume and salary requirement in confidence to
hr@pjr.com
.
Check us out on the web at www.pjr.com or on Facebook, LinkedIn and Google+! We are an equal opportunity employer! 
168 KTV & Bistro is coming soon, and they are hiring!
Those of us that love Chinese food already know the name 168 as our states largest Chinese grocer, they are now opening a KTV and Bistro as well.
The grand opening will be on April 10th, but before that they will be holding a job fair for all front-house positions.
The job fair will take place the 29th and 30th of March. For those interested please see the flyer below, you may also contact Ryan at  1 (586) 808-4568 or email:Ryanrosario6648@gmail.com for further details. 
 DCBA 2017 ANNUAL SPONSORS 
RECOGNITION
-- Gold Sponsors --
-- Silver Sponsors --
 

Detroit Chinese Business Association
3250 W. Big Beaver Road, Suite 430, Troy MI 48084