DCBA February Newsletter 2017
Tian Xia 在 星期三, 02/01/2017 - 00:00 提交
            A Fabulous Chinese New Year Gala 
            Our Keynote Speaker Michigan Governor Rick Snyder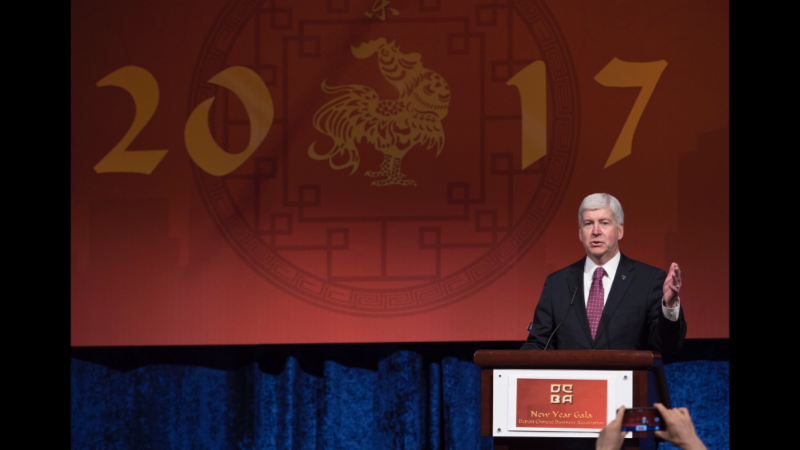 Michigan Governor Snyder and Commercial Counselor of Chinese Consul General in Chicago Mr. Zou Xiaoming,
          U.S. Senator Debbie Stabenow, DCBA President Mr. Jerry Xu, Mr. John Cheng, Ms.  Shen Wei and Mr. Ren Zhang
On Saturday, February 11th, 2017, the Chinese Lantern Festival, the DCBA held its 2017 annual Chinese New Year Gala at the Grand Riverview Ballroom in the beautiful Cobo center in the great Detroit.
Although this event was to celebrate Chinese New Year, most of our Gala attendees are Americans who love Chinese culture and hope to be connected with Chinese community.
Over 500 business professionals and political leaders attended this Gala to celebrate the Chinese New Year together, including Michigan Governor Rick Snyder, U.S. Senator Debbie Stabenow, Commercial Counselor of Chinese Consul General in Chicago Mr. Zou Xiaoming, Deputy Assistant Secretary of Commerce for China and Mongolia Mr. Alan Turley, Wayne County Executive Mr. Warren Evans, and Oakland Deputy County Executive Mr. Matthew A. Gibb with wife. In addition, many senators and mayors attended our Chinese New Year Gala with their wives. There were also many business elites attended this fabulous event, such as Cadillac President Mr. Johan De Nysschen and his wife, President of KSS Mr. Jason Luo and his wife, DTE Foundation President Ms. Faye Nelson and her husband, Global COO of Nexteer Automotive, Mr. Tao Liu and his wife, Sure Solutions CEO Ms. Mary Buchzeiger and her husband, Vice President of QAD Mr. Charlie Eggerding with his wife. Besides all those VIPs, we were glad to have many executives and partners from law firms and accounting firms also attended this Chinese New Year Gala.
More pictures and info on our 2017 Gala
Governor Synder's interview by China Daily USA at DCBA 2017 Gala
U.S. Senator Debbie Stabenow speaks at DCBA 2017 Gala
DCBA organized meeting between Consul General of China in Chicago and DIA
February 13, 2017, on invitation of president of DCBA Mr. Jerry Xu, Consul General of China in Chicago Mr. Hong Lei and his team came to Detroit Institute of Arts to meet with Dr.
Salvador Salort-Pons to discuss about the possibility of future collaborations between DIA and its counterparts in China. 
Detroit is not only known as "Motor City", but also the home of Detroit Institute of Arts (DIA). Salvador Salort-Pons, director and president of DIA, expressed his eagerness to strengthen cultural exchange ties with Chinese counterparts. He told Hong Lei, Chinese consul general in Chicago, that he hoped DIA would have a hall exhibiting Chinese art in the future. Hong said cultural exchange and economic cooperation could go hand in hand, pledging that he himself would help bridge DIA with related Chinese cultural counterparts. Salort-Pons guided the Chinese envoy and other guests to some of DIA's best collection, including Detroit Industry by Diego Rivera, and Wedding Dance by Pieter Bruegel the Elder, and a bronze ware Hu of China in the East Zhou Dynasty more than 2,000 years ago. DIA held a special exhibition of Chinese calligraphy and paintings to celebrate the Chinese New Year of the Rooster. (Zhang Yu'an/China Daily USA)
Auto Club Association event  at Detroit Economic Club Luncheon
On Feb 2nd , DCBA president Jerry Xu participated APA  event at Detroit Athletic Club where 50-70 top auto journalists attended, China Auto Specialist Ms. Mary Buchzeiger, president of Sure Solutions was invited as a panelist at Auto Club Association event  at Detroit Economic Club Luncheon to share her insight and experience with Chinese market.
DCBA New Advisory Board Member Announcement
Welcome  Mr. Tao Liu to join DCBA Advisory Board
DCBA
 is proud to announce that one of the most accomplished and respected entrepreneur in town, Mr. Tao Liu,   has joined 
the DCBA Advisory Board
 since February 2017 with two-year service term. 
The DCBA Advisory Board was founded in May 2015. Jason Luo is the first Chairman of the DCBA Advisory Board. Board members use their unique insights and expertise to serve the purpose of fostering the business development between China and the United States. We are delighted to welcome all members of the DCBA Advisory Board and thank you for your continuous support of DCBA.    
.
 

Mr. Tao Liu                                                 

Senior Vice President and Global Chief Operating Officer

Tao Liu is senior vice president and global chief operating officer. In his current role, Liu is responsible for Nexteer's day-to-day value chain management and profit & loss performance across all divisions. He is also a member of Nexteer's Global Strategic Council.

 

Nexteer Automotive is a global leader in advanced steering and driveline systems. In-house product development and full integration of hardware, software and electronics give Nexteer an unmatched competitive advantage as a full-service supplier.

 
Welcome our 2017 New Annual Bronze Sponsor
Golden Way Group, LLC is a commercial construction service, residential remodeling and wholesaler of hardwood floors in the Metro Detroit area since 2007. In 2012, we became a commercial general contractor, providing a large variety of services from architecture design, commercial construction and renovations. Our accomplishments include manufacturing and remodeling of testing labs, offices, warehouses, production plants, workshops, community centers and churches.  From demo, framing, insulation, ceiling tile, drywall, HVAC, electric, fire sprinklers and plumbing to metal stairs, VCT & tile, cabinetry, granite countertops, painting, window blinds, windows, doors, building signs and parking lot asphalt work - all to final completion. 
Our convenient, one stop services includes architecture design, all permits, construction/remodeling services through to final occupancy. We are a nationally certified women owned business and a minority certified business. Both certifications gives our customers even more benefits - especially Tier 1 and Tier 2 suppliers in the auto industry.
Golden Way Group provides free consultations and estimates to DCBA members in need of construction services. We had many successful projects within the Chinese community, such as YanFeng USA Automotive Trim System Company, Inc;  STEC USA;  ChangAn USA;  ALT America, Inc;  Kingfa Science & Technolofy Co., Ltd;  We provide on time services and the best value to each and every client.
Tel: 248-777-2200
        248-777-6900
Fax: 248-777-6504
Hours
Mon - Fri: 9AM - 5PM
Sat: By appointment
Sun: Closed
Location: 165 Park Street Troy MI 48083
Welcome our 2017 New Annual Bronze Sponsor
                                              J L L 
JLL (NYSE: JLL) is a professional services and investment management firm offering specialized real estate services to clients seeking increased value by owning, occupying and investing in real estate.  JLL is a Fortune 500 company with, as of December 31, 2015, revenue of $6.0 billion and fee revenue of $5.2 billion, more than 280 corporate offices, operations in over 80 countries and a global workforce of more than 70,000.  On behalf of its clients, the company provides management and real estate outsourcing services for a property portfolio of 4.0 billion square feet, or 372 million square meters, and completed $138 billion in sales, acquisitions and finance transactions in 2015. As of September 30, 2016, its investment management business, LaSalle Investment Management, has $59.7 billion of real estate assets under management. JLL is the brand name, and a registered trademark, of Jones Lang LaSalle Incorporated.
In Michigan, JLL employs more than 800 dedicated professionals and has three corporate offices located in Royal Oak, Ann Arbor and Grand Rapids. Our Michigan teams can provide your business services in transaction management, property management, project leasing, disposition, integrated facility management, project management, move management, lease administration and retail management. In addition, our industry-leading research group delivers Southeast Michigan commercial real analysis and insights that drive value in real estate decisions and support successful strategies. For further information,
 DCBA 2016 ANNUAL SPONSORS 
RECOGNITION
-- Gold Sponsors --
-- Silver Sponsors --
 

Detroit Chinese Business Association
3250 W. Big Beaver Road, Suite 430, Troy MI 48084