DCBA October Newsletter 2016
mbai@dcba.com 在 星期二, 11/01/2016 - 15:30 提交
            SAVE THE DATE
 Saturday, February 11th, 2017
   The Detroit Chinese Business Association present --
          2017 Chinese New Year Gala 
Grand Ballroom, Cobo Center, Detroit.
Upcoming Event
DCBA 2016 Sponsor Appreciation Dinner ---
            November 19, 2016  Birmingham Country Club
Our annual appreciation dinner for current DCBA sponsors & advisory board. Celebrating another banner year and holiday cheer! Please contact us how you can best benefit from sponsorship participation in the DCBA network.

Event Highlight --
   Jiangsu Gaogang District Business Promotion & Networking
Bloomfield Hills, Michigan -- On October 26, the Detroit Chinese Business Association successfully hosted Jiangsu Gaogang District Business Promotion & Networking event at Iroquois Club. This year, the mayor of Taizhou Gaogang District Government, Mr. Sun Hongjian leads his team visited Metro Detroit Area, to extend the friendship with Oakland county and promote the business relationships with local industries.
 There are more than 80 guests, from different industries. Mr. Jerry Xu, the president of DCBA, made a welcome remark to Jiangsu Taizhou Gaogang team and all the DCBA friends attending the event!
Mr. Matthew Gibb, Oakland County Deputy Executive, presented a delicate gift which represents Detroit's automobile industry to Mr. Sun Hongjian. Mr. Sun made keynote speech with fluent English, and vividly introduced Taizhou city and Gaogang District.
As DCBA annual gold sponsor -- Delta Air Lines. Ms. Rebecca Keng, the sales representative of Delta Air Lines, Inc. gave the audience a general introduction of their latest flight package. More info please go to
www.delta.com.
 or contact rebecca.keng@delta.com.
Jiangsu Gaogang Business Promotion & Networking event provided localentrepreneurs and service providers a open platform for reaching out more business connections and US-China cooperation.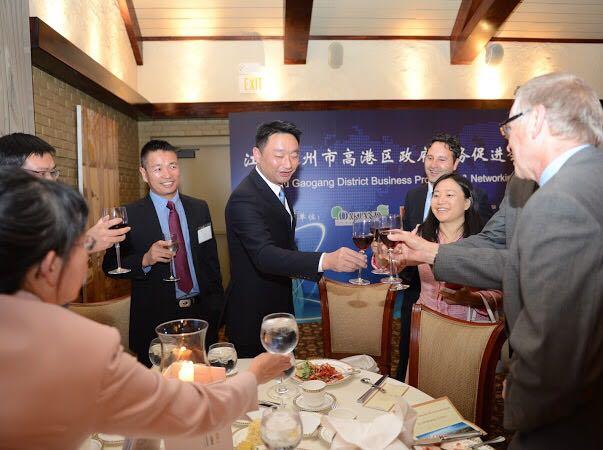 DCBA in Community --                            
 "Industrial Upgrading and Economic Growth in China" Conference in the University of Michigan
Ann Arbor, Michigan -- The Ross School of Business of the University of Michigan held their Annual Conference of the Lieberthal-Rogel Center for Chinese Studies on October 21-22, 2016. The conference, "Industrial Upgrading and Economic Growth in China" examined China's changing development model and the role of industrial upgrading in promoting new sources of growth and development. 
Distinguished speakers include Dr. Yifu (Justin) Lin from Beijing University and Dr. Shangjin Wei from Columbia University.
Dr. Lin is one of the most renowned economists in China and among the major economic advisors to the Chinese government. He formerly served as the Chief Economist and Senior Vice President of the World Bank. 
DCBA Board of Advisors Mr. Jason Luo (Left photo) CEO of Key Safety Systems, and Mr. David Wang Yanfeng USA, provided valuable insights as panelists & Dr. Jack Hu, Vice President for Research at the University of Michigan and others presented. DCBA was proud to support and be invited to a "Fireside chat dinner" with the speakers prior to the conference.
David Wang & Jerry Xu 
Online Survey Promotion --
有奖问卷 得旅行大礼包、百元礼品卡、免费滑雪门票!
Dear Detroit Chinese Business Association members and friends,
 
My name is Jenni Lee (李秀熹), a Ph.D. candidate at Michigan State University in the program of sustainable tourism and protected area management. I am writing to ask for your help with an important online survey to better understand your opinions related to Michigan tourism. The main purpose of this survey is to understand
Michigan Chinese residents' experiences and opinions related to Michigan tourism destinations
.        密歇根华裔居民对密歇根旅游目的地的旅行体验与观点调查 
Your participation will help provide better tourism products to Chinese residents and visitors in Michigan. 
 
The questionnaire should take only about 15 minutes to complete. Your responses are voluntary and will be kept anonymous. This survey has been reviewed and approved by the Michigan State University Institutional Review Board. If you have any questions about this survey, please email me, Jenni Lee, Ph.D. candidate, at
leejen19@msu.edu
.
By participating this survey, you will be eligible to win one of the following prizes: 
参与问卷调查,有机会获得以下奖品--
                     The First Grade Prize (一等奖)
                  Michigan Crystal Mountain Resort package
  3-night Pure Michigan Family Vacation in a Cottage at Water's Edge for summer 2017
     2017年夏季 密歇根 Crystal Mountain 度假酒店 三晚家庭假日套餐
The Second Grade Prize (二等奖)
 A $100 visa gift card (5 available)
价值$100 Visa 礼品卡一张
The Third Grade Prize (三等奖)
A free ski pass to any downhill ski area in Michigan (10 available)
The link for the survey is at the bottom of this email. Please take a few minutes of your time to help me. Most of all, I hope that you enjoy the questionnaire and the opportunity to share your opinions about Michigan tourism.
Follow this link to the Survey or copy and paste the URL into your internet browser.
 请点击以上链接,参与完成调查问卷、有机会赢得大奖! :)
Many Thanks,
 
Jenni Lee (李秀熹), Ph.D. candidate
Department of Community Sustainability
Michigan State University 

DCBA Job & Volunteer Opportunities--
Detroit Business Association is a non-profit organization operating in the State of Michigan, founded in 1995.
Its primary responsibility is to foster beneficial business relationship between Chinese and American business.  
We welcome you join us, sharing your talent, making new friends, finding job opportunities, and working with us to make contribution to our community!
DCBA Web New Features - Job Opportunity
 

DCBA Web features a new function for job seekers and recruiters to share local job opportunities info. 

 

The recruiters can sign-up at the dcba.com to post your job positions / descriptions under the web part of 
 DCBA 2016 ANNUAL SPONSORS 
RECOGNITION
-- Gold Sponsors --
-- Silver Sponsors --
 

Detroit Chinese Business Association
3250 W. Big Beaver Road, Suite 430, Troy MI 48084

 
| | |
| --- | --- |
| | Detroit Chinese Business Association,3250 W. Big Beaver Road, Suite 430, Troy, MI 48084 |